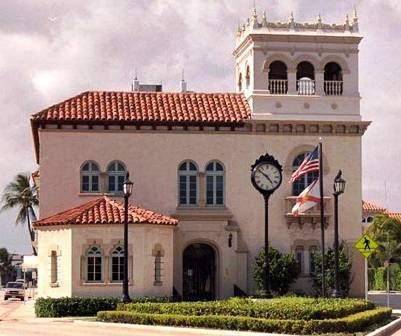 Addison Mizner was Florida's leading architect in the 1920's. He established his own unique Spanish and Mediterranean Revival style that became the architectural signature of Florida, and in so doing, created the ambience that truly transformed Palm Beach and South Florida. Mizner's work served as the models for other leading Florida architects during this period. As an architect and creator of a unique style that defined the resort communities of Florida forever, Addison Mizner has truly secured a lasting place in the architectural history of America.

A romantic and freewheeling man, Addison Mizner was strongly influenced by the art of Spain and the Central Americas, where he spent much of his childhood. Addison Mizner did not have formal training. He could not draw blueprints. Yet his fanciful Mediterranean style architecture launched a "Florida Renaissance" and inspired architects throughout North America. At the height of his career, Mizner designed over fifty Palm Beach villas and Florida mansions for the nation's leading social families. He also designed the famous Everglades Club, in Palm Beach, the Boca Raton Resort and Club (shown here), the Via Mizner and the Via Parigi.

Born in Benicia, California, Addison Mizner traveled as a child around the world with his father, Lansing Bond Mizner, a lawyer and the U. S. minister to Guatemala. Little is known about his sketches and artwork prior to his architectural career, but his subsequent work shows him to be a fine draftsman and an artist who painted beautiful watercolors. He was the brother and sometime partner of businessman, raconteur and playwright Wilson Mizner. The brothers' series of scams and picaresque misadventures were the inspiration for Stephen Sondheim's musical Road Show.


Mizner served a 3 year apprenticeship in the office of San Francisco architect, Willis Jefferson Polk, eventually becoming a partner. Addison Mizner eventually relocated to New York City, where he designed numerous country houses across Long Island and the region. In 1907, he and William Massarene designed White Pine Camp, later used by U. S. President Calvin Coolidge as his "Summer White House".

At age 46, Addison Mizner moved for his health to Palm Beach, Florida, just at a time when the vast resort hotels were becoming less fashionable. In 1925, Addison Mizner started Mizner Development Corporation and purchased more than 1,500 acres, including two miles of beach. Addison Mizner was the visionary behind development of Boca Raton Florida. He mailed out out promotional material that boasted a 1,000-room hotel, golf courses, parks and a street wide enough to fit 20 lanes of traffic. Stockholders included such high-rollers as Paris Singer, Irving Berlin, Elizabeth Arden, W.K. Vanderbilt II and T. Coleman du Pont. Film star Marie Dressler sold real estate for Mizner.

His Mediterranean Revival designs won the attention and patronage of wealthy clients, who preferred to build their own individual ocean-front mansions. Constructed of stone, tile and stucco, his buildings were better suited to Florida's semi-tropical climate, and threat of hurricanes, than the wooden shingle-style resort architecture imported from the Northeast.

Mizner's houses were generally one-room deep to allow cross ventilation, with kitchens located in wings to keep their heat away from living areas. Other characteristic features included loggias, colonnades, clusters of columns supporting arches, French doors, casement windows, barrel tile roofs, hearths, grand stairways and decorative ironwork. In West Palm Beach, he founded Mizner Industries to manufacture the tiles, cast stone trim and columns, wrought iron and, eventually, furniture for his buildings.

The 6 foot 2 inch, 250-pound bon vivant epitomized the "society architect." Rejecting modern architecture for its "characterless copybook effect," Addison Mizner sought to "make a building look traditional and as though it had fought its way from a small, unimportant structure to a great, rambling house."