Browse through our alphabetical list of native Florida plants that encourage butterflies into your garden, and find the perfect choices for your Florida butterfly garden! Plants that have an asterisk beside their name are especially high in nectar.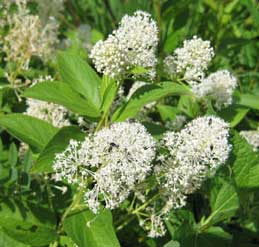 New Jersey Tea (Ceanothus americanus)- New Jersey-tea is a low, upright, deciduous shrub that grows to only 3 feet tall. Pubescent leaves give the entire plant a grayish cast. Small white flowers occur in 2 inch branch-tip clusters. A low shrub with tiny white flowers in oval clusters rising from the leaf axils on the new shoots, the base is woody, while the upper portion of the plant is made up of herbaceous, spreading branches. Cylindrical clusters (1-2" long) of tiny, fragrant, white flowers (1/8") appear on long stalks at the stem ends or upper leaf axils in late spring. Toothed, broad-ovate, medium to dark green leaves (to 4" long) are gray and hairy below. Young twigs are noticeably yellow and stand out in winter. Dried leaves were used as a tea substitute, albeit without caffeine, in American Revolutionary War times, hence the common name.


Paint Brush (Carphephorus spp)- Although the Indian Paintbrush is the Wyoming state flower (adopted on January 31, 1917), these flowers can be found throughout North America in their varieties. Blooming in the springtime, their root system is slightly parasitic on other plants. This plant is fairly rugged and can be found along the roadside, in fields, and along the low coasts of Florida. Indian Paintbrush is what botanists call a "scroph," a member of the same family as foxglove and snapdragon. Like foxglove, Indian Paintbrush is a biennial. The first year it grows as a small rosette inconspicuously nestled amongst the grass and weeds. The spring of its second year it shoots skyward on a leafy 18 inch, unbranched spike topped with an orange or scarlet flowers. After flowering and subsequent seed set, the original plant dies. The true flowers are small and inconspicuous with the showy portion hairy, inch long bracts. The flowers are clustered atop of the slender stem and, if you're blessed with a good imagination they may look somewhat like an artist's paintbrush.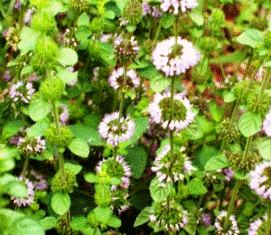 Pennyroyal (Piloblephis rigida )- Florida Pennyroyal is a delightful little plant found in flatwoods and on sandhills throughout Florida. Pennyroyal a low growing aromatic plant, occurring in moist pineland from Alachua County southward. It blooms November to April. It is very fragrant and is a wonderful addition to potpourri. The Florida pennyroyal plant is attractive to bees, butterflies and birds. It is drought-tolerant and suitable for xeriscaping. When planted in full sun the pennyroyal will bloom repeatedly from spring to fall. The violet or purple blooms make a nice addition to any Floridian garden.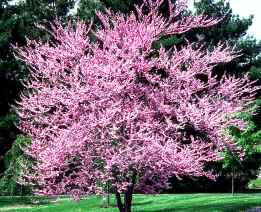 Redbud (Cercus canadensis)- The Redbud tree is a relatively small tree with spreading branches and a small short trunk. The Redbud is a poplar ornamental tree, which can be found in many gardens and streetscapes. The tree is one of the earliest flowering trees and is often used to add color to gardens. The purple pink flowers of the eastern redbud appear all over the tree in early spring. Flowers are bisexual and the tree is self-pollinating. Flowering usually occurs sometime from March to May and precedes leafing. The flowers are even produced on large trunks. Redbud has a yellow fall color and is shade tolerant. The Redbud grows throughout much of the eastern United States, including north and central Florida, and is a favorite for both bees and butterflies. Redbud is found on a variety of sites ranging from xeric to mesic but grows better on moist, well-drained sites. It is normally more abundant on south-facing slopes where sunlight is more intense and there is less plant competition. This species does not usually grow on flooded sites because it cannot endure inundation or survive in poorly aerated soils.