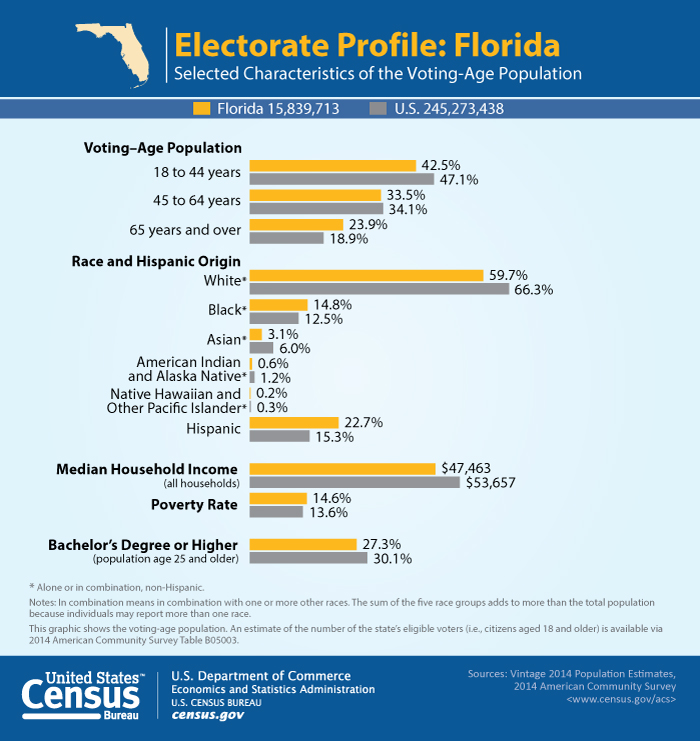 Florida's population is over 21.4 million people, making it the third most populous state in the United States, exceeded only by California and Texas. The Demographics of Florida is undergoing a dynamic change. Florida contains large numbers of people from a wide variety of ethnic, racial, national, and religious backgrounds. The state continues to attract significant numbers of immigrants, and continues to grow dramatically in over-all size. Its population is expected to double between 2000 and 2030.

During the 1990's, the number of people in the state rose by 3 million--only California and Texas grew by more during the decade. This represents nearly a 23.5 percent increase in population over the decade. Florida is expected to break the 20 million mark before April 1, 2015. Florida ranked third in the nation in total population change between April 1, 2000 and July 1, 2008, behind Texas and California, respectively. According to the Census Bureau, Florida was the eighth fastest growing state in the nation during this time period.

Within the state, the 1990's saw five counties increase in residents by more than 60 percent (Flagler, Sumter, Collier, Wakulla, and Osceola). Over the past eight years, three counties; Flagler, Sumter and Osceola experienced population growth rates above 50 percent, while St. Johns, St. Lucie, Walton and Lee counties posted growth rates between 41.5 percent and 47.1 percent. In 2008, 50.9 percent of Florida's residents lived in one of its 412 municipalities. In 1990, 49.6 percent lived in an incorporated place.

Population growth depends on two components -- natural increase, the difference between births and deaths, and migration, both domestic and international. During the 90's, natural increase accounted for 14.7 percent of the growth and net migration accounted for 85.3 percent of the increase. In the period from April 1, 2000 to April 1, 2008, natural increase accounted for 14.4 percent of Florida's growth and net migration accounted for 85.6 percent. The Census Bureau estimates that about 35.2 percent of Florida's net migration is due to international migration.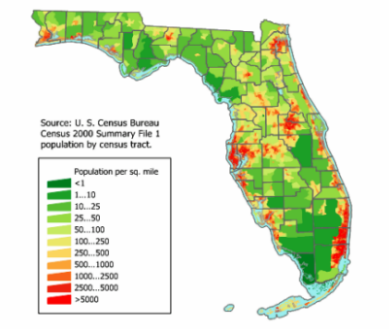 Florida has a majority ethnic group, with approximately 65% considered White. Spanish is said to be the state's "second most spoken language", especially in Miami-Dade County area. In terms of race, Florida's population has become increasingly nonwhite over the last two decades. In the 1980 Census, 14.7 percent of the enumerated population was nonwhite; in 1990, 15.2 percent was nonwhite, and in 2000 (using the same definitions of race as in previous years) 17.8 percent was nonwhite. This percentage is projected to increase to 19.7 percent in 2010. Florida's population is also becoming increasingly Hispanic (persons of Hispanic origin may be any race). In 1980, the Census enumerated 858,158 persons of Hispanic origin (8.8 percent of the total). The number of Hispanics increased to 1,574,143 in 1990 (12.2 percent of the total) and to 2,682,715 in 2000 (16.8 percent of total). The Hispanic population increased by 70.4 percent between 1990 and 2000. Florida's Hispanic population is projected to represent 21.5 percent of the total population in 2010.

The population aged 85 and older was one of the fastest growing age segments during the 1980's, increasing by 75.1 percent. This group grew by 61.2 percent during the 90's, more than twice the rate of growth for the state and is forecast to expand by 55.8 percent between 2000 and 2010.

The youth population (ages 0-19) has shown increasing growth rates over the last 30 years -- from 15.5 percent between 1970 to 1980 to 25.2 percent between 1990 and 2000. In 1980, there were 2,688,242 persons aged 0 to 19 (27.6 percent of the total population). In 1990, the youth population had grown to 3,232,493 (25.0 percent of the population) and in 2000, there were 4,048,632 youths (25.3 percent of the population). It is projected that by 2010, persons age 19 and younger in Florida will represent 24.4 percent of the total state population.

Of concern is the slow growth among those in the prime labor force age group (ages 25-59). This group increased by 1.8 million persons during the 1980's (45 percent growth) to reach a level of 5.8 million on April 1, 1990. Between 1990 and 2000, this group grew by just under 29 percent and growth between 2000 and 2010 is expected to slow to 18.4 percent. By 2010, this group is expected to represent 45.8 percent of the total population, down from 46.7 percent in 2000.