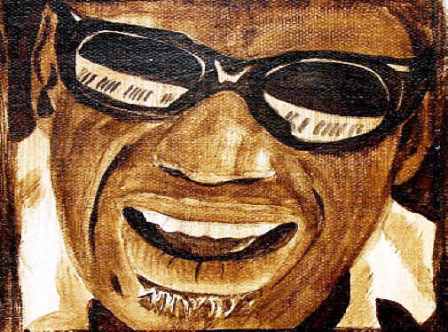 From country to blues to jazz to R&B and even funk, Ray Charles has set the aesthetic standard for more than five decades, earning plaudits across the globe and setting standards that his legion of fans, in and out of the entertainment industry, aspire to. He was an American pianist, singer, and songwriter who shaped the sound of rhythm and blues. Ray Charles crossed countless perceived musical boundaries throughout his career and was known since the 1950s as "The Genius."

Ray Charles Robinson was born Sept. 23, 1930, in Albany, Georgia. His father, Bailey Robinson, was a mechanic and a handyman, and his mother, Aretha, stacked boards in a sawmill. His family moved to Greenville, Florida, when Charles was an infant. Ray Charles Robinson was not born blind, only poor. At just five years old Charles had to endure the trauma of witnessing the drowning death of his younger brother in his mother's large portable laundry tub. Soon after the death of his brother he gradually began to lose his sight and by 7 years of age Ray Charles was blind. Although it is presumed that untreated glaucoma was the cause, no official diagnosis was ever made.

Ray Charles was accepted as a charity student at St. Augustine's school for the deaf and blind, where he learned to read Braille and to type. Having started to play the piano at five, Ray was allowed to further develop his great gift of music at the school, learning alto saxophone, clarinet, trumpet, and organ. Charles, whose father had passed away when he was ten, lost his mother to cancer when he was 15 and left the St. Augustine school to try and make a living as a musician. It was in Seattle's red light district at just 16 where Ray Charles met a young Quincy Jones only 14 himself. He taught the future producer and composer how to write music and arrange. It was a friendship that lasted a lifetime with the two working on many sessions together later in their careers.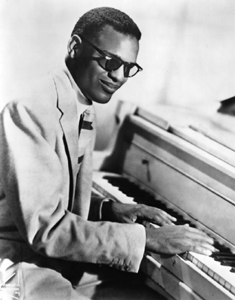 Ray Charles Robinson dropped his last name to avoid confusion with boxer Sugar Ray Robinson and patterned himself in his early career after Nat "King" Cole. In Seattle, Charles formed the McSon Trio, with Gossady McGee, in 1948, the first black group to have a sponsored TV show in the Pacific Northwest. It was from Seattle that he went to Los Angeles to cut his first professional recording. In 1952, Atlantic Records signed him to a contract.

By 1954 Charles had created a successful combination of blues and gospel influences. Propelled by Charles's distinctive raspy voice, "I've Got a Woman" and "Hallelujah I Love You So" became hit records. "What'd I Say" led the rhythm and blues sales charts in 1959 and was Charles's own first million-seller. Charles reworded the gospel tune "Jesus is all the World to Me", adding deep church inflections to the secular rhythms of the nightclubs, and the world was never the same. That song is widely credited as being the first true "soul" record. "You can't run away from yourself," Charles once said. "What you are inside is what you are inside. I was raised in the church and was around blues and would hear all these musicians on the jukeboxes and then I would go to revival meetings on Sunday morning. So I would get both sides of music. A lot of people at the time thought it was sacrilegious but all I was doing was singing the way I felt."

Charles's rhythmic piano playing and band arranging revived the "funky" quality of jazz, but he also recorded in many other musical genres. He entered the pop market with the best-sellers "Georgia on My Mind" (1960) and "Hit the Road, Jack" (1961). His album Modern Sounds in Country and Western Music (1962) sold more than 1,000,000 copies, as did its single, "I Can't Stop Loving You."

Throughout his career, Charles was active in a range of political and humanitarian causes. He provided financial support for the Reverend Martin Luther King Jr. and the civil rights movement; he was also a staunch supporter of Israel. In 1984 he performed his version of "America the Beautiful" at the Republican National Convention. Three years later, he formed the (Ray Charles) Robinson Foundation for Hearing Disorders, with a $1 million personal endowment. On June 10th, 2004 Ray Charles passed away from liver disease two months before the release of his final album Genuis Loves Company.

Follow us on Facebook
Advertise | Privacy Statement | Dog Encyclopedia | Video |Contact | Dog Encyclopedia

Ray Charles
Singer, Songwriter, Pianist
Ray Charles was an American pianist, singer, and songwriter who shaped the sound of rhythm and blues. Ray Charles crossed countless perceived musical boundaries throughout his career and was known since the 1950s as "The Genius."
DOB: Sept. 23, 1930 00:00:00.000