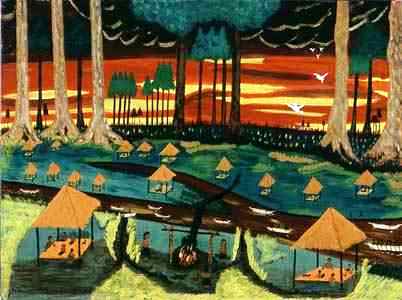 Earl Cunningham is recognized as one of the premier American folk artists of all time. Despite this honor, Cunningham can also be seen as a modernist painter. His art expresses an overall sense of goodness, optimism and a utopian harmony. The depictions of the world in Cunningham's paintings were the world as he wanted to see it and not an actual portrayal of his lifetime.

Earl Cunningham was born in Edgecomb, Maine near Boothbay Harbor, and from his birth was attracted to the sea. This love of the ocean defined both his life and his paintings. Cunningham left home at age 13 and supported himself as a tinker. He later became a seaman and traveled the East coast of the United States in large ships carrying goods to eastern ports. Earl Cunningham married Iva Moses, a piano teacher on June 29, 1915. During World War I, he drove a truck for a naval yard and visited Florida for the first time. For the next 10 years, the couple spent winters in Florida, in Tampa Bay, Cedar Key, and St. Augustine.

Earl Cunningham was a self taught artist and used bold vivid colors mixed with a flat perspective. Cunningham often added incongruous details, "such as flamingos in Maine and Viking ships in Florida," to his work. Cunningham painted the American landscape of the Atlantic coast and its intracoastal ecosystem with dock workers, fishermen, farmers, wildlife and even American Indian tribes. As he traveled up and down the coast he painted his reflections of the surroundings. His own experiences informed his works, which celebrate the beauty of nature and often depict dramatic storms or sunsets. Painted in the American folk art style, his canvases are filled with images of birds, trees, boats and the sea, and are a unique reflection of American history, from Native American life to more modern times. His glorious, vivid colors have given him the reputation of being an American Primitive Fauve.

Earl Cunningham settled in St. Augustine in 1949, where he opened a curio shop called the Over Fork Gallery. He displayed his paintings there, although this artwork was not for sale. Earl Cunningham continued to paint in relative obscurity. In his spare time, he painted genre scenes, primarily landscapes of the places he saw during his lifetime: Maine, New York, Nova Scotia, Michigan, North and South Carolina, Georgia and Florida.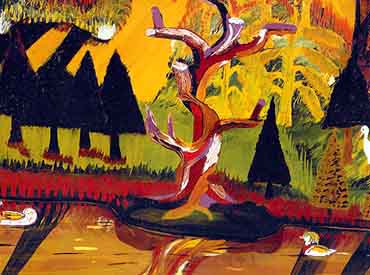 In 1961 Earl Cunningham sent a painting titled "The Everglades" to Jacqueline Kennedy. The painting is currently on display at John F. Kennedy Library and Museum in Boston. Such paintings as "Seminole Village, Deep in the Everglades" and "The Twenty-One" feature intensely colored skies at sunset. The Everglades represented a place of serenity to Cunningham, who was aware of the impact of modern life on Florida's environment and considered himself a conservationist. Like the places he painted, Cunningham often depicted both general representations of birds and specific species in his paintings.

"Seminole Everglades," (shown above) with its dark shadows that evoke the murkiness of the swamps, is populated by a wide variety of birds including flamingos, wood ducks, owls and cranes. A unique point of view is paired with these strange colors. There are also inaccurate proportions in many of the paintings Cunningham wanted to create the illusion that size, or proportion, is in the eye of the beholder. Although this concept does not take away from the ability to enjoy the subject matter of the paintings, it does represent a response to American life as it was on the fast track towards a modern transformation.

In 1969, collector Marilyn Mennello convinced Earl Cunningham to sell her a work; and in 1970, she made possible an exhibition of selected paintings at the Loch Haven Art Center (now the Orlando Museum of Art). In 1974, Cunningham's second museum exhibition, "Earl Cunningham: American Primitive," opened at the Daytona Beach Museum of Arts and Sciences. Cunningham, who had suffered from depression and paranoia, committed suicide December 29, 1977

Throughout his life, Earl Cunningham was not recognized as a significant artist and he rarely sold a painting. It was his dream to have all of his works displayed in a museum setting. In 1998 the City of Orlando opened the Mennello Museum of American Folk Art to house the Mennello's extensive collection of Cunningham's works. Earl Cunningham's paintings also reached national prominence and were exhibited in one-man exhibitions in thirty museums across the United States, including the Metropolitan Museum of Art, the Smithsonian American Art Museum, and the Abbey Aldrich Rockefeller Museum