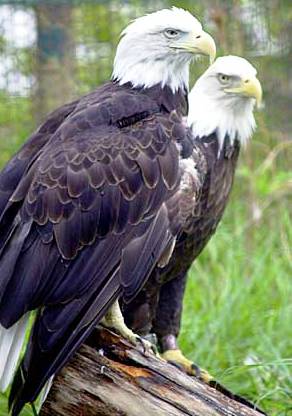 American Eagle- Florida has one of the densest concentrations of nesting eagles in the lower 48 states, with over 1,000 nesting pairs. Concentrations of nesting territories are clustered around several significant wetland systems throughout the state. The national emblem of the United States, the Bald Eagle was threatened with extinction in the lower 48 states because of DDT (a type of pesticide) poisoning. Protection under the Endangered Species Act, together with reintroduction programs, brought populations up, and the species was reclassified as Threatened in 1995. On June 28, 2007 the Interior Department took the American bald eagle off the Endangered Species List.

The eagle is one the largest and most powerful birds of prey. Soaring high above the earth, spying its prey with its keen eyes, the eagle presents a majestic picture. Eagles are notable for their powerful set of eyes. Even though their eyes are just slightly larger than human eyes, they can see up to 3½ times better than a person with perfect vision. An eagle can see a moving rabbit from a mile away, and can see a fellow eagle soaring 50 miles away! Eagles are differentiated from other birds of prey mainly by their larger size, more powerful build, and heavier head and beak. These powerful birds are unmistakable in appearance. They are found throughout the United States and Canada. Eagles can measure up to 43 inches in length and have a wingspan up to 7.5 feet. Most eagles are larger than any other raptors apart from the vultures.

Like all birds of prey, eagles have very large powerful hooked beaks for tearing flesh from their prey, strong muscular legs, and powerful talons. They also have extremely keen eyesight which enables them to spot potential prey from a very long distance. This keen eyesight is primarily contributed by their extremely large pupils which ensure minimal diffraction (scattering) of the incoming light. Eagles build their nests, called eyries, in tall trees or on high cliffs. Many species lay two eggs, but the older, larger chick frequently kills its younger sibling once it has hatched. The dominant chick tends to be the female, as they are bigger than the male. The parents take no action to stop the killing.



Osprey- Ospreys, also known as "fish hawks," are expert anglers that like to hover above the water, locate their prey and then swoop down for the capture with talons extended. The undersides of the toes on each foot are covered with short spines, which help them grasp slippery fish. In Florida, ospreys commonly capture saltwater catfish, mullet, spotted trout, shad, crappie and sunfish from coastal habitats and freshwater lakes and rivers for their diet.

The osprey is smaller than the bald eagles that typically share the same habitats, but its five to six foot wingspan is impressive nonetheless. Adults are dark brown above with a white underside and head. Look for the distinctive dark line that extends behind the eye and the gull-like way the narrow wings are angled downward when the birds are in flight.

Ospreys build large stick nests located in the tops of large living or dead trees and on manmade structures such as utility poles, channel markers and nest platforms. Ospreys have adapted so well to artificial nest sites that the species now nests in areas once considered unsuitable. Nests are commonly reused for many years. Nesting begins from December (south Florida) to late February (north Florida). The incubation and nestling period extends into the summer months.

The osprey is found year-round in Florida both as a nesting species and as a spring and fall migrant passing between more northern areas and Central and South America. Ospreys in Florida did not suffer the serious pesticide-related population declines that occurred in other states in the 1950s and 1960s. Pesticides, shoreline development and declining water quality continue to threaten the abundance and availability of food and nest sites for ospreys.

The osprey is listed as a Species of Special Concern only in Monroe County. Permits are required throughout the state to remove a nest for these wonderful raptors, however, and a replacement structure must be erected to mitigate the removal of the nest.