Many of the destinations included in our "Floridian Nature" vacation spots are literally off the beaten path. Others are in towns or on main routes but have an unusual or or specific nature appeal. We have also listed some State Parks that may already be well known to some, yet these parks offer such an inspiring natural attraction, that we would be remiss if we did not include them. The first two-time Gold Medal winner honoring the nation's best state park service, Florida's state park system is one of the largest in the country with 160 parks, most of which are open 365 days a year. Florida's state parks, which span more than 700,000 acres and include more than 100 miles of sandy white beach, provide an affordable outing for people of all ages.

Planning a Florida vacation without doing your research is likely to land you in generic tourists sites that are often overcrowded and over-priced destinations. It is the goal of Floridian Nature that readers will find some new and interesting ways to enjoy the beautiful nature of Florida, while also remembering to give some of the older, more well known nature sites in the state a second look! If you know a special nature oriented spot in the state of Florida that we do not have on our list, please feel free to email us the information and we will gladly add it to the site if it meets our criteria.

We have divided Florida into 4 regional groups: The panhandle, North Florida, Central Florida, and South Florida. Each nature vacation spot is listed alphabetically in the corresponding group.





The Florida Panhandle- The Florida Panhandle is an area of natural wonders and beauty! The Florida Panhandle is the region of the state of Florida which includes most of the northwestern part of the state. It is a narrow strip lying between Alabama on the north and the west, Georgia also on the north, and the Gulf of Mexico to the south. Its eastern boundary is arbitrarily defined along some chosen county lines, and it includes Tallahassee. Beautiful Nature Vacation spots in the panhandle region include: Blackwater River State Park, Blue Mountain Beach, Dog Island, Falling Waters State Park, Grayton Beach, Henderson Beach State Park, Natural Bridge Battlefield, St. George Island State Park, St. Joseph Peninsula State Park.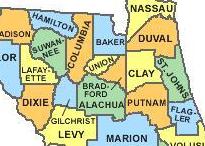 North Florida- North Florida is the original Florida tourism destination. There are off-beat and old-fashioned towns to explore where you can still savor a slice of life from bygone days. This region is also home to the largest collection of natural springs in the world, amazing sunsets, wonderfully quiet recreational rivers and trails, and world-class flora and fauna. With no crowds and no palm trees, it'll break your stereotypes of the state. As you wander along the tree-lined and scenic roads winding through the region, you'll forget that you are in the fourth largest state in the US. When visiting North Florida you will want to make sure you visit these nature sites: Amelia Island, Big Shoals Public Lands, Fanning Springs, Marjorie Rawlings State Historic Site, Panacea Area, Paynes Prairie State Reserve, Ravine State Gardens, St Augustine, Suwannee River Recreational Area, Tallahassee Museum.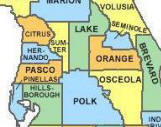 Central Florida- Central Florida is a particularly unique region of Florida because it blends the traditional culture of the Deep South which is experienced in the rural areas, with the perceived "typical Florida" culture that is dominated by national and international migration. Central Florida has a wide variety of natural attractions including the St. Johns River, the Ocklawaha River, the Econlockhatchee River, and over 1,500 lakes and ponds. The region also boasts an extensive network of recreational trails (jogging, biking, equestrian, etc). While many connections are already in place construction continues on eventually linking all of the hundreds of miles of trails and greenways being developed by each county. While many tourists visiting central Florida focus on Disneyworld and the Orlando area, there are many natural and historic sites found in central Florida including: Canaveral National Seashore, Cedar Key, Crystal River, Fort Foster Historic Site, Homosassa Springs Wildlife Park, Ocala National Forest, Rainbow River, Sebastian Inlet State Park, Silver Springs.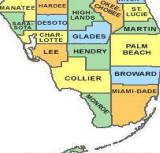 South Florida- Whether you want to see wading birds and winged creatures or the once-endangered alligator, you'll find lots of animals at these South Florida nature spots. You don't have to go far from home to find a little nature in South Florida. Here are some of the best nature centers and natural areas in Palm Beach, Broward and Miami-Dade counties. In addition to the places listed here, all state and national parks, just about every county park and larger city parks also have trails and natural areas to explore. Must see nature vacation spots in South Florida include: Anclote Key, Biscayne National Park, Blowing Rocks Preserve, Captiva Island, Coconut Creek, Collier-Seminole State Park, Everglades National Park, Indian Key, Jonathan Dickinson State Park Myakka River State Park, Sanibel Island,