Birds have the most total species in danger in the State of Florida. They have seven endangered species, nine threatened species and eighteen species of special concern, giving them a total of thirty-four species in danger in Florida. Each Florida bird is classified as either endangered, threatened or a species of special concern (SSC). The number after the classification refers to the reason it is classified as a species of special concern. The description of each number value can be found here. Click on the common name of the bird for a brief description and photograph of each endangered bird from the state of Florida.






Piping Plover (Charadrius melodus) Threatened- The Piping Plover is a small shorebird, a little smaller than a Robin. It looks quite round and plump when it is standing still on its orange legs. It has a black collar in summer, and a rather short beak. The legs and black collar are probably the most visible feature of this rare bird, because the feathers on its back are the color of pale dry sand, and the adult blends in with the beach so well that one might be standing very close to you without you noticing it. In winter, the black collar disappears, making the Piping Plover even harder to spot. Piping Plovers nest on Atlantic beaches and on salt flats in the center of North America. The biggest factor in the bird's decline is a single competitor - people!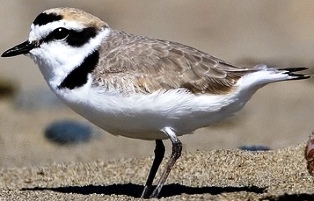 Snowy Plover (Charadrius alexandrinus) Threatened - Snowy Plover can be found along the west coast from Washington to Baja California and along the Gulf Coast from Florida to the Yucatan Peninsula. Preferred habitats include sandy coastal beaches and shallow alkaline lakes. The snowy ploveris a small bird with pale brown upper parts and white under parts. This bird has dark patches on either side of upper breast, behind eye, and on it's white forehead. The snowy plover's bill, legs, and feet are black.