Seals live in the oceans of both hemispheres and are mostly confined to polar, sub-polar, and temperate climates, with the exception of the more tropical monk seals. True seals inhabit all oceans, except the Indian Ocean. Some species live in inland lakes in Siberia, Russia, and Finland. Seals forage, search for food, at sea, but haul out (get out of the water) to land to breed, molt, or shed fur, and rest. Seals eat mostly fish, but also feed on krill, squid, octopuses, and other seals. True seals congregate on land or ice to breed and molt. The males and females of some species migrate, travel, separately from breeding to foraging areas, some traveling as far south as Florida. Others species do not migrate.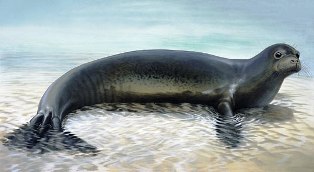 Caribbean Monk Seal- At one time, Caribbean, or West Indian, monk seals inhabited the Caribbean Sea, northwest to the Gulf of Mexico, as well as from the Bahamas to the Yucatan Peninsula, south along the Central American coast and east to the northern Antilles. Some spottings around the Florida coast also exist. The Caribbean monk seal was formally declared extinct in 1996. The last reported sighting in 1952 was from Seranilla Bank between Jamaica and Honduras, where a small colony was known to have lived. The Caribbean monk seal was documented as being easily approachable and not aggressive and they were easily killed during directed hunts in the 17th and 18th centuries. It is also known that sailors, whalers, and fishers opportunistically killed the seals they encountered. As well, Caribbean monk seals were killed by museum collectors and displayed in zoos. All monk seal species appear to be sensitive to disturbance, and early habitat exclusion by humans throughout their range may have exacerbated their decline. "Humans left the Caribbean monk seal population unsustainable after overhunting them," Kyle Baker, a biologist for the National Marine Fisheries Service, said in a statement. "Unfortunately, this led to their demise and labels the species as the only seal to go extinct from human causes." A Caribbean monk seal, the only subtropical seal native to the Caribbean Sea and Gulf of Mexico, had not been seen for more than 50 years. Very little scientific information was gathered before the Caribbean monk seal disappeared. Males are thought to have reached a length of 2.1 to 2.4 m; females may have been slightly smaller. The backs of adult seals were brown with a grey tinge; the underside was pale yellow, as was the muzzle. The fur of newborns was long and dark. Evidence suggests that the pups were born in December weighing between 16 and 18 kg, and measuring up to 1 m in length.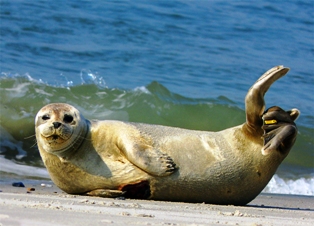 Common Seal- The common seal, also known as the harbor seal, is an agile carnivore with a streamlined body and flipper-like limbs that enable them to swim with great skill. Common seals grow to lengths of up 6.5 feet and weights of 120 to 370 pounds. Males are generally larger than females. The coat consists of thick, short hairs ranging in color from white with dark spots to black-dark brown with white rings on the dorsal side. Common seals live near the coasts and can be watched, resting on sandbanks, from the dry land. Common seals prefer regions, where rivers flow into the sea, because these waters are permanently ice-free even in the northern part of their distribution range. Common seals inhabit the European coasts of the Atlantic, the North sea and the Baltic sea as well as the Atlantic coast of the northern part of North America and North America's Pacific coast. Due to the Common seal's wide distribution there are several subspecies. The Western Atlantic harbor seal is found from the eastern Canadian Arctic and Greenland down to New Jersey, with individuals occasionally found wandering as far south as Florida.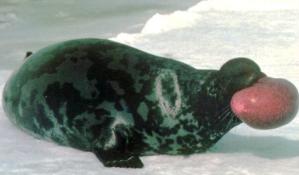 Hooded Seal- Adult hooded seals have black heads and silver-gray coats with dark blotches of varying sizes and shapes across their bodies. Pups are called "blue-backs" for their coat of blue-gray on their backs and whitish bellies; this coat is shed after 14 months of age when they molt. Adult males measure around 8 feet long and weigh about 660 pounds. Adult females are noticeably smaller, measuring around 7 feet in length and weighing about 440 pounds. The hooded seal is unique for the elastic bi-lobed nasal cavity, or "hood", that adult males can inflate and extend from the front of their face to the top of their head. Sexually mature males also have an elastic nasal septum, which, when inflated, resembles a pinkish red balloon, to attract females' attention during mating season and to display hostility towards other males. Hooded seals usually dive for food to depths of about 325-1,950 feet for 15 minutes at a time. Adult hooded seals feed on squid, starfish, mussels, and fish such as Greenland halibut, redfish, cod, capelin, and herring. Hooded seals live on drifting pack ice and in deep waters. Some drift far away from their northern habitat towards much warmer regions every year, but they survive best in colder climates, as heat and constant sun exposure is harmful to them. Hooded seals are migratory and can wander long distances; they have occasionally been found as far south as Florida, California, and the Caribbean.