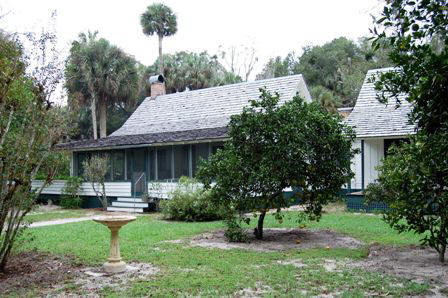 Marjorie Kinnan Rawlings was an American author who lived in rural Florida and wrote novels with rural themes and settings. Her best known work, The Yearling, about a boy who adopts an orphaned fawn, won a Pulitzer Prize for fiction in 1939 and was later made into a movie, also known as The Yearling. The book was written long before the concept of young-adult fiction, but is now commonly included in teen-reading lists.

Marjorie Kinnan Rawlings began the story of her life in Cross Creek in 1928 with her husband Charles Rawlings, she settled into her new life in this "half-wide, backwoods country," growing oranges, cooking on a wood-burning stove, writing down her impressions of the land and her Cracker neighbors. Immediately, she felt an affinity for the place and made a lifelong commitment to it: "When I came to the Creek, I knew the old grove and the farmhouse at once as home."An unknown writer when she moved here in 1928, Mrs. Rawlings committed herself to this small, remote community and lived in poverty. Seven years passed before she sold her first story, but as the people and environment of Cross Creek fueled her creative fire, her reputation grew and she eventually penned her most famous work.

Marjorie Kinnan Rawlings sat most often on the wide veranda at her typewriter, writing the books that would endear her to the world and capture forever the beauty of Florida and the spirit of its people. The Yearling, an American classic and winner of the Pulitzer Prize, is the story of young Jody Baxter's coming of age in the big scrub country which is now the Ocala National Forest. In 1942, Rawlings published Cross Creek, an autobiographical account of her relationships with her neighbors and her beloved Florida hammocks. Cross Creek is a chronicle of her life at the Creek, a "love story," she called it, where she reveals her favorite haunts, marvels at the passing of the seasons, introduces the reader to her friends and neighbors and shares with the whole world her love of Florida. Here, the land and its people roused her, and her writings blossomed into works that have placed her among the best known names in American literature.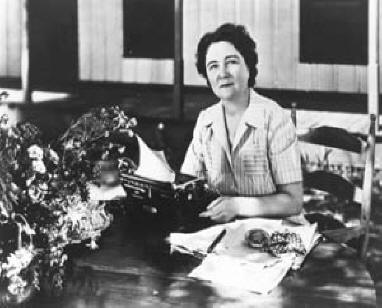 Marjorie Kinnan was born in 1896 in Washington, DC, to Frank, an attorney for the US Patent Office, and Ida Traphagen Kinnan. She grew up in the Brookland neighborhood and was interested in writing as early as age six, and submitted stories to the children's sections of newspapers until she was 16. At age 15, she entered a story titled "The Reincarnation of Miss Hetty," for which she won a prize

She attended the University of Wisconsin–Madison where she received a degree in English in 1918, and met Charles Rawlings while working for the school literary magazine. Kinnan briefly worked for the YWCA editorial board in New York, and married Charles in 1919. In 1928, with a small inheritance from her mother, the Rawlings' purchased a 72 acre orange grove near Hawthorne, Florida, in a hamlet named Cross Creek for its location between Orange Lake and Lochloosa Lake.

In 1926, Scribner's accepted two of her stories, "Cracker Chidlings" and "Jacob's Ladder," both about the poor, backcountry Florida residents who were quite similar to her neighbors at Cross Creek. Local reception to her stories was mixed between puzzlement of whom she was writing about and rage, as apparently one mother recognized her son as a subject in a story and threatened to whip Rawlings until she was dead! Her first novel, South Moon Under, was published in 1933. The book captured the richness of Cross Creek and its environs in telling the story of a young man, Lant, who must support himself and his mother by making and selling moonshine, and what he must do when a traitorous cousin threatens to turn him in. Moonshiners were the subject of several of her stories, and Rawlings lived with a moonshiner for several weeks near Ocala to prepare for writing the book. "South Moon Under" was included in the Book-of-the-Month Club and was a finalist for the Pulitzer Prize.

Divorced from Charles Rawlings in 1933, Marjorie Rawlings stayed on at the Creek alone through the Great Depression and into more prosperous times. In 1941, she married Norton Baskin and divided her time between their St. Augustine home and her Cross Creek retreat where she continued to write up until her death in 1953 at the age of 57.