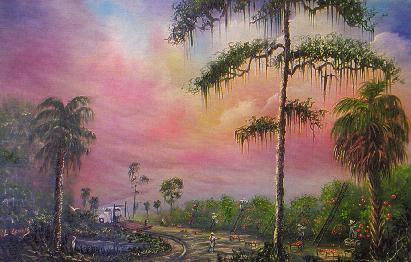 In the early 1950's through the 1980's a group of twenty-six African-American artists painted beautiful landscapes that displayed the serene, undeveloped Florida landscape of their time. They were from Fort Pierce, Florida and later became known as the "Highwaymen". The 26 painters latched onto art as a way to escape a more grueling fate: picking or crating oranges in the local groves.

Their artwork was primal and raw depicting idyllic views of the Florida landscape, before rampant development would reconfigure the state's topography forever. The Highwaymen are credited for encouraging the beginning of the "Indian River School" and "Backus" art movements and have many followers but these 26 individuals are the only true "Highwaymen": Curtis Arnett

,

Hezekiah Baker, Al Black, Ellis Buckner, George Buckner, Robert Butler, Mary Ann Carroll, Johnny Daniels, Willie Daniels

,

Rodney Demps, James Gibson, Alfred Hair, Issac Knight, Robert L. Lewis, John Maynor

,

Roy McLendon, Alfonso Moran, Harold Newton, Lemuel Newton, Sam Newton, Livingston Roberts, Willie Reagan, Cornell Smith, Charles Walker, Sylvester M. Wells, and Charles Wheele.

The birth of the Highwaymen can be traced to 1954 in Fort Pierce, Florida, when a young African-American painter named Harold Newton met an established white painter named Albert "Beanie" Backus. Backus encouraged Newton to paint landscapes, and the young man eagerly obliged. Another African-American painter, Alfred Hair, began studying under Backus and for the next few years, Hair, Newton and a widening circle of associates produced Florida landscapes. The Highwaymen artists knew they could make a living painting, but they knew they had to be different. Mr. Backus was a prominent white artist and could sell his paintings for hundreds of dollars in galleries and shows; no gallery would show the work of unknown, self-taught African-Americans.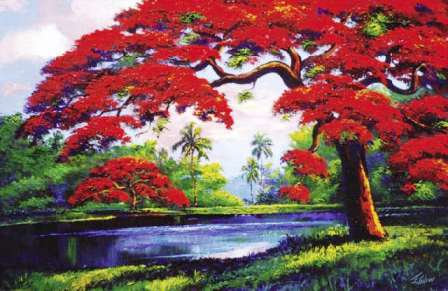 The Highwaymen saved money by painting on inexpensive Upson board and framed the works using white crown molding. On the weekends the artists would travel and sell their paintings to hotels, businesses, and individuals who appreciated the artwork for around $25 a piece.

Even though they worked on their artwork as a group each painting was done by an individual artist. They worked in their backyards. The Highwaymen wanted to create art but they also needed to make money. To make up for the cheaper prices they were charging they would paint up to ten paintings in the time it would take Backus to paint just one. The artists often got together to paint through the night. It wasn't unusual for an artist to make ten, even twenty, paintings at a stretch. Alfred even lifted weights to be able to paint without tiring. James challenged himself to make a hundred paintings in a twenty four hour marathon. His ubiquitous two color landscapes were the end result. Since the artists rushed, flaws were not unusual. Nor is it unusual to see smudged paintings.

The Highwaymen is a moniker that Jim Fitch, a promoter who is fascinated by what he calls Florida's Art Tradition, assigned to the group in 1994. He often came across Highwaymen paintings — in thrift stores, yard sales, and the like — and recognized that something special had happened.

Taking their artistic cues from Backus, the painters often worked with a heavy palette knife to create the swaying palms, shifting skies and crashing waves of the Atlantic Ocean. Scenes of marshes, birds, boats, moss-laden trees and the St. John's River were also popular. Over the years, all of the Highwaymen developed and refined their own personal styles, ranging from surrealism to realism to impressionism. But the Florida folk art they created in the '50s is what is now generating such attention, especially among collectors.

Collecting Highwayman art has become an exciting, but often expensive, hobby. People in central Florida, along the coast from Palm Beach to Ormond Beach, dream of finding an original work at a garage sale or thrift store. But by now, most everyone in the region is aware of the values. In spite of the scarcity, hobbyists continue to travel the highways in search of Highwaymen art.